Janmashtami is the day we celebrate the appearance of the Supreme Lord Krsna in this material cosmic manifestation. This time honored tradition has lasted for over five thousand years starting in India and is spreading across the globe due to the sincere and determined efforts of His Divine Grace A.C. Bhaktivedanta Swami SrilaPrabhupada the Founder of The International Society for Krishna Consciousness.
We would like to thank each one of you for all your dedicated services and contributions to ISKCON New Goloka, making this Janmashtami celebration the BIGGEST & the best celebration we have had so far. Many of you offered so much time and energy into making this festival a grand success for the pleasure of Sri Sri Radha Golokananda. We feel so fortunate to have such a dedicated and devoted congregation at New Goloka.
Thank you to each one of you who came and joined us in this auspicious celebration.
We had people coming to take darshan of Their Lordships Sri Sri Radha Golokananda from 4pm, all the way till midnight. Here is a quick snapshot: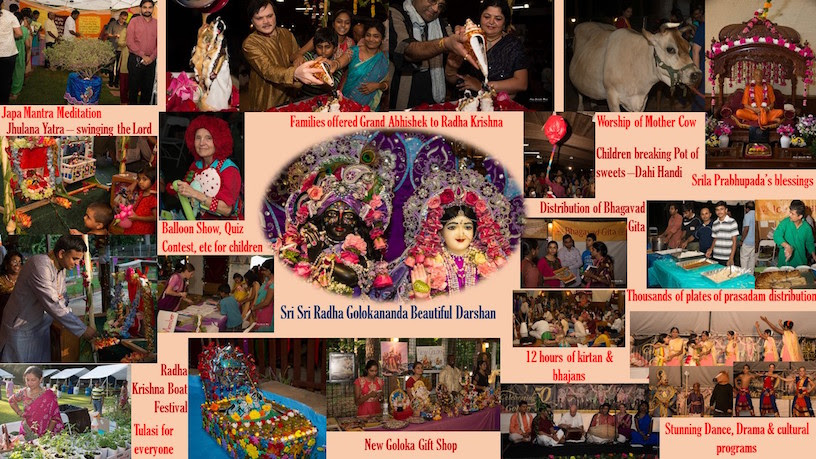 More photos of the festival can be viewed at this link:
For Janmashtami 2016 Photos Click here.
(We would like to thank Ajay Govinda Dasa for these photos.)
The highlights of this year's festival included:
New

outfit for Their Lordships Sri Sri Radha Golokananda, Who were smiling looking at all the people come from far distances to take Their darshan.
Beautifully decorated temple room.
Opportunity for everyone to offer aratika to Radha Golokananda.
12-hour non stop kirtan.
Spectacular darshan of Sri Sri Radha Krishna in Their beautiful decorated BOAT.
Mantra meditation booth, where everyone took time to join the japa meditation.
Special Krishna Kaliya Pastime exhibit.
Books on Krishna – many devotees received a personal copy of the Krishna book, the entire Srimad Bhagavatam set and many other books.
Swinging Gopal Krishna in his swing.
Many people received a Tulasi plant to worship at home.
Children were excited to take a quiz on Krishna and receive gifts.
Balloon show showing Krishna's pastimes.
The Maha prasadam stalls, the

New

Goloka

gift shop and the children's booth.
The Cultural program was a super hit and people were absorbed in various dances and drama performances on Krishna.
The grand abhishek ceremony & finally the

midnight

Aratika.
Thousands of plates of prasadam distribution.
Certainly there are always ways we can improve our service to Sri Sri Radha Golokananda, Srila Prabhupada and to all of you.
FEEDBACK: We appreciate all your feedback, please email IskconNC@gmail.com
what you liked about the festival and how and where we can improve.
Hare Krishna!
Address : 1032 Dimmocks Mills Road, Hillsborough, NC – 27278
There is ample of parking available on the grounds opposite to the current temple.
Additional over flow parking is accommodated at Cedar Ridge High School, located within 2 miles of the temple.
Address: 1125 New Grady Brown School Rd, Hillsborough, NC 27278
Shuttle services will be available to and from the school in the evening from 6 pm onwards.
Please follow the parking signs.