ISKCON is an educational institution and thus we need different types of education at different stages of our lives. Today's children are tomorrow's leaders. In the current society, though children are trained in technological advances but the core principles of how to live a fulfilling spiritual life with satisfaction and happiness, how to deal with challenging situations, questions about our purpose of life, the point about moral values and character are often not given importance. Hence we want to provide that core education to the children from a young age to instill foundational spiritual and moral values. 
Based on Bhagavad Gita and Srimad Bhagavatam, children learn skills like determination, time management, focus, scientific understanding of spiritual principles and a lot more – lessons that will help them throughout their lives. The classes are interactive with life skills & moral/spiritual values, memorizing important slokas, overview of Bhagavad Gita, stories from Bhagavatam, Mahabharata & Puranas, quizzes, games, activities, bhajans, projects, presentations, charades, skits, puppet shows, and more.  
Moral & spiritual values

Memorizing important slokas

Overview of Bhagavad Gita

Stories from Bhagavatam, Mahabharata & Puranas 

Quizzes, games & activities

Bhajans

Projects & presentations

Charades & skits 

Puppet shows
Children Sunday School – Fall Session (Aug-Dec) and Spring Session (Jan-May)
Timing: Every Sunday 5pm-6pm
Where: ISKCON New Goloka Temple (1032 Dimmocks Mill Rd., Hillsborough, NC 27278)
Age Groups:
Gopal class: 4-6 year olds,
Govinda class: 7-9 year olds,
Gopinath class: 10 years and up

Curriculum based on themes from Bhagavad Gita and Srimad Bhagavatam. Final presentation at the end of each session. Tuition: $100 per child ($95 for siblings) for whole Fall or Spring session

Children will learn:

important slokas

overview of Bhagavad Gita

stories from Srimad Bhagavatam, Mahabharata and other scriptures

bhajans

presentation/public speaking skills

life skills & moral/spiritual values

lots more….

For more information, text/WhatsApp: Ratna Radhika (919) 452-4051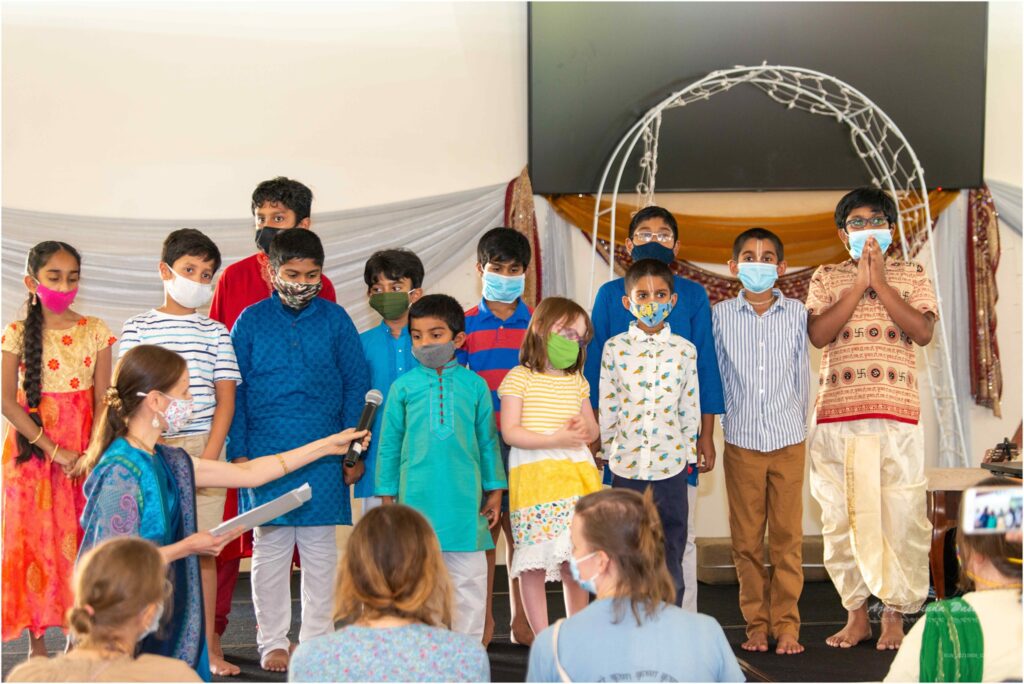 Friday Children Classes as part of the Family Home Bhakti Groups
Where: Greensboro, Hillsborough, Cary/Morrisville Areas
When: Every Friday, around 7:30pm
During the weekly Friday home programs, while adults have their class, there is a separate class for children where they learn Bhagavad Gita slokas, philosophy and stories from the Vedic scriptures, learn bhajans/songs, and play games/dramas according to what they have learned. 
For more information, contact: Aditya-Narayan Dasa (407) 451-7735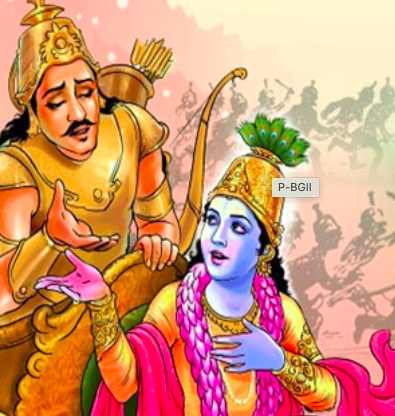 Srila Prabhupada Lecture—20 July, 1972
"That is the success of the movement, because younger generation, they are the flowers, the future hope of the country, of the world. If they take this movement seriously then the whole world will be happy."
Srila Prabhupada Letter to Satsvarupa Maharaja—11 April, 1973
"These children are the future hope of our Society, so it is a very important matter how we are training them in Krishna consciousness from the very childhood."
Srila Prabhupada letter to Dayananda & Nandarani—27 January, 1973
"If the children are given a Krishna conscious education from early childhood then there is great hope for the future of the world."
Srila Prabhupada letter to Hayagriva—7 November, 1969
"Please also take care of the children. They are our future hopes, and the adolescent age is the most dangerous age. It is the turning point of one's life. In this age, if you take care of the children, surely they will come out first class Krishna conscious devotees."
Srimad-Bhagavatam 4.12.23 purport
It is necessary for the leaders of the Krishna consciousness movement to start educational institutions in different parts of the world to train children, starting at the age of five years. Thus such children will not become hippies or spoiled children of society; rather, they can all become devotees of the Lord. The face of the world will then change automatically.