The International Society for Krishna Consciousness (ISKCON), known colloquially as the Hare Krishna movement or Hare Krishnas is a religious organization that follows the teachings of Vedas and Vedic scriptures, practicing and preaching Vaishnavism – The worship of Krishna or Vishnu. The institution, which came into existence in the year 1966 in New York by A.C. Bhaktivedanta Swami Prabhupada managed to turn the tables for the Hippie culture in the west, providing them with a sort of higher bliss which in fact left many think seriously about spirituality. Philosophically it is based on the Sanskrit texts Bhagavad-gītā and the Bhagavat Purana, or Srimad Bhagavatam. These are the historic texts of the devotional bhakti yoga tradition, which teaches that the ultimate goal for all living beings is to reawaken their love for God, or Lord Krishna, the "all-attractive one."
Visit an ISKCON Temple and you will probably realize that this higher bliss is simply attained by chanting the holy names of god, dancing till the world ends and well, when it does, Feast! The Society is striving to become a sort of self sufficient one, giving people a sense of independence through an enveloping positive association, mentors, friends and many others to help one solve their problem's. When your daily woes dissolve on hearing the chanting of Hare Krishna and you can hear the bells ringing, people singing melodiously in glories of Krishna with that beautiful Tilak on the forehead, you should guess that you have entered into the beautiful kingdom of ISKCON.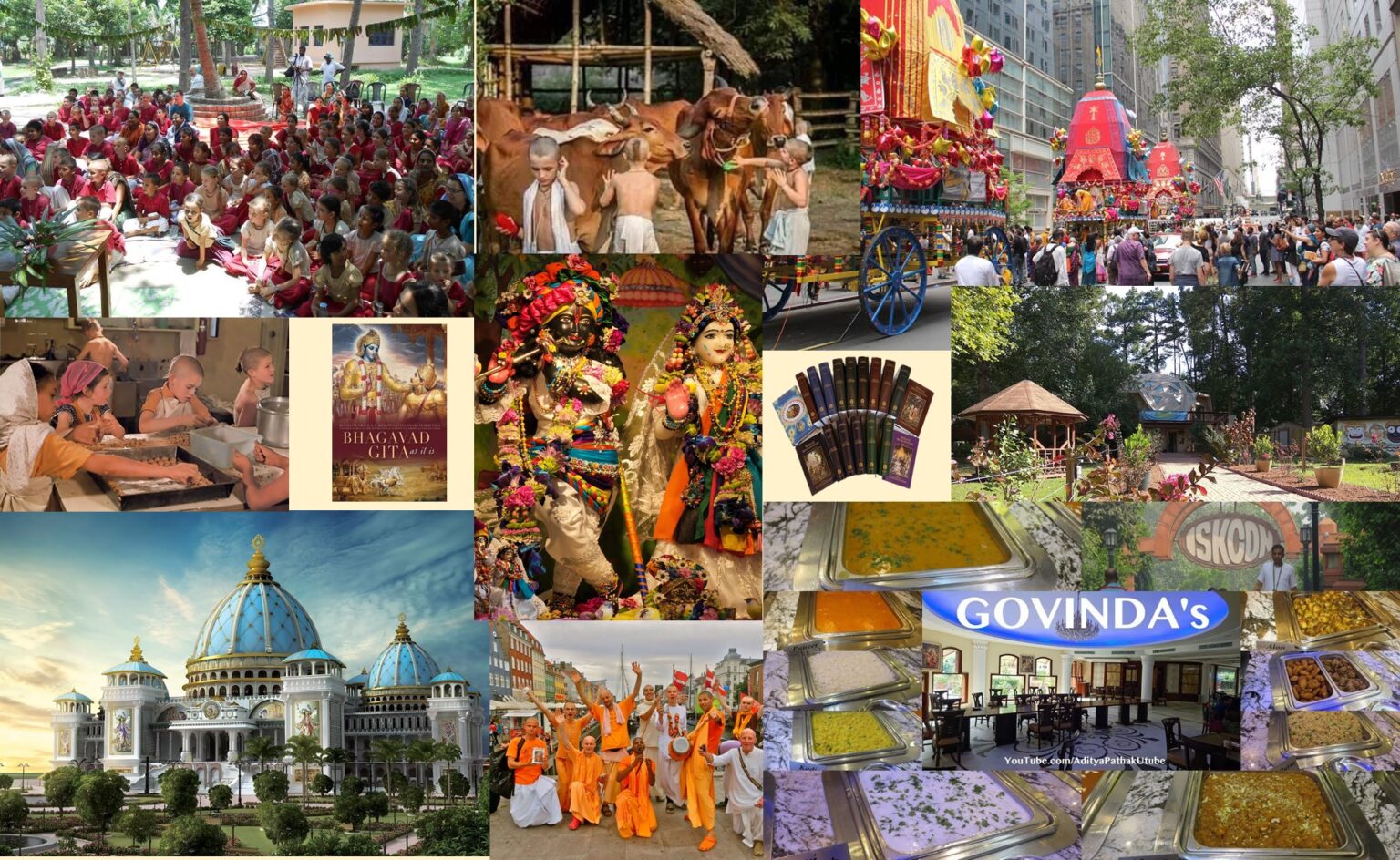 Today, ISKCON is a worldwide confederation of more than 550 centers, including 60 farm communities, some aiming for self-sufficiency, 50 schools, and 90 restaurants. With personalities like George Harrison from the Beatles, Alfred Ford, Hema Malini and many others, ISKCON has become a hub of brainy people who have faith in spirituality. The society is full of IIT and IIM associates who are experienced and believe that ISKCON is a well sorted organization that makes one grow as a human being and understand some simple facts about life. ISKCON is that one road that makes you witness the path of peace through experience, faith and association.
Srila Prabhupada founded ISKCON in July of 1966. The incorporation document states Seven Purposes of ISKCON:
ISKCON's founder, Srila Prabhupada, has drawn appreciation from scholars and religious leaders alike for his remarkable achievement in presenting India's Vaishnava spiritual culture in a relevant manner to contemporary Western and worldwide audiences.
Many leading academics have highlighted ISKCON's authenticity. Diana Eck, Professor of Comparative Religion and Indian Studies at Harvard University, describes the movement as "a tradition that commands a respected place in the religious life of humankind." 
In the 1980s Dr. A. L. Basham, one of the world's authorities on Indian history and culture, wrote of ISKCON that, "It arose out of next to nothing in less than twenty years and has become known all over the West. This, I feel, is a sign of the times and an important fact in the history of the Western world."
(1) To systematically propagate spiritual knowledge to society at large and to educate all peoples in the techniques of spiritual life in order to check the imbalance of values in life and to achieve real unity and peace in the world.
(2) To propagate a consciousness of Krishna as it is revealed in the Bhagavad-gita and Srimad Bhagavatam.
(3) To bring the members of the Society together with each other and nearer to Krishna, the prime entity, and thus to develop the idea, within the members, and humanity, at large, that each soul is part and parcel of the quality of Godhead (Krishna).
(4) To teach and encourage the Sankirtan movement of congregational chanting of the holy name of God as revealed in the teachings of Lord Sri Chaitanya Mahaprabhu.
(5) To erect for the members, and for society at large, a holy place of transcendental pastimes, dedicated to the personality of Krishna.
(6) To bring the members closer together for the purpose of teaching a simpler and more natural way of life.
(7) To bring the members closer together for the purpose of teaching a simpler and more natural way of life.
ISKCON - Sharing The Joy of Devotion